Entrepreneurs Pick Media mentors over Publicists
May 25, 2018 • By Tiffani Knowles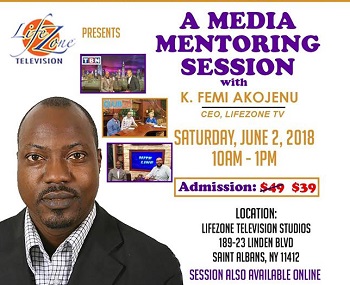 Have you ever wondered how so-called nobodies land interview slots on CNN, MSNBC, OWN or TBN? The quickest answer is a publicist. The smartest answer is media mentoring.
Media mentoring is the process by which a professional who either 1) works in media or public relations or 2) has had success in being featured on local and international media offers you advisement on the to-dos and not to-dos to garner the attention of reporters, news desks, bloggers and TV/radio producers.
Once you locate a media mentor, they will advise you on how to be attractive to the media, whether that be through:
· Tweaking Your Bio
· Creating Timely Press Releases
· Creating Media-Friendly Social Media Posts
· Optimizing your Web Presence
· Signing Up for Media Interview Lists
· Becoming a Field Expert and Influencer
K. Femi Akojenu, who is a media executive as well as a deliverance/spiritual warfare expert, has been featured in The New York Times, TBN, The New York Daily News and several other media platforms.
On June 2, he is offering an in-person/webinar for media mentoring at Life Zone TV studios in New York where he will teach you how to get your business, product or non-profit organization professional news coverage without paying thousands of dollars to a publicist.
In this 3-hour session, he will reveal the secrets many successful ministers and entrepreneurs have been using to promote themselves and their organizations.
Register NOW at https://getmeinthenews.eventbrite.com.

Visitor Comments (1)
The third installment of our HOLA America, Hello Culture series about immigration in Miami features Afro-Latinos. Learn the story of how Afro-Latinos struggle with triple consciousness living in SoFlo.
In Which Major Athletes Can We See Divine Inspiration?
Among the 1 million Cubans living in Greater Miami, most would be considered rubio by Cuban standards. They are fair-skinned with light eyes. Yet, two-thirds of the population in Cuba is Black. Where is this community?
Back To Archives