I Got a Man Gospel Play Hits Miami
November 9, 2017 • By Tiffani Knowles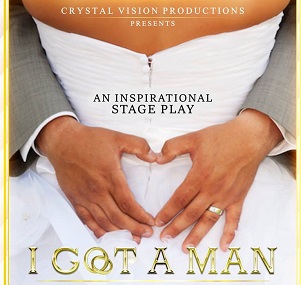 Gospel stageplay, I Got a Man, touches down in Miami at the Little Haiti Cultural Center on Nov. 11, promising audiences laughs and inspiration.
Produced by playwright Crystal Wilcox, I Got a Man is an inspirational stage play with a twist and has more to do with finding God than finding a man, said Wilcox.
It follows the story of four friends through their journey as single Christian women. Their choices lead them to dramatic outcomes while each woman learns from every choice she makes and the consequences that follow.
"When they are tempted, they will have to make the ultimate choice of whom will they serve," stated the event website.
This Miami debut is followed by a succesful run at the Wayne Densch Performing Arts Center in Sanford, Florida last August.
"I really enjoyed myself. The play was really good and funny," commented playgoer Teagra Fennel on the Sanford show's Facebook page.
The play runs from 7:30 to 9:30 p.m. on Nov. 11.

Visitor Comments (0)
Be the first to post a comment!
Today is an opportune time to revisit the vision of Crazy Horse, the notable Sioux warrior to glean what you can. "Upon suffering beyond suffering; the Red Nation shall rise again and it shall be a blessing for a sick world. A world filled with broken promises, selfishness and separations. A world longing for light again. I see a time of seven generations when all the colors of mankind will gather under the sacred Tree of Life and the whole Earth will become one circle again. In that day there will be those among the Lakota who will carry knowledge and understanding of unity among all living things, and the young white ones will come to those of my people and ask for this wisdom. I salute the light within your eyes where the whole universe dwells. For when you are at that center within you and I am at that place within me, we shall be as one."
Jocelyn Bioh's School Girls; Or, the African Mean Girls Play signed on to reprise their performances in the off-Broadway production and continue to receive standing ovations for their raw truths on colorism, bullying and adolescent identity issues.
No matter what he does, or how many evangelical preachers attempt to convince me of Donald Trump's divine appointment to prevent the dismantling of the church in America and the socialistic takeover by the crazy, godless lefties, I remain unmoved and unconvinced.
Back To Archives